Keynote Speakers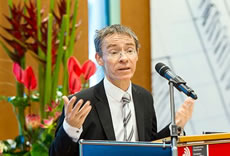 1. Dominique Guellec,
Head of the Science and Technology Policy Division (STP), OECD Directorate for Science, Technology and Innovation.
Dominique Guellec is Head of the OECD's Science and Technology Policy Division (STP), created on 12 April 2010. STP is responsible for co-ordinating the analysis of country-specific information on member and non-member countries across the Directorate. This notably includes the OECD Reviews of Innovation Policy, the STI Outlook, the web-based Innovation Policy Platform (IPP) and work relating to innovation for development. Mr Guellec joined the OECD in 1995 and has worked in the Statistics Directorate and the Directorate for Science, Technology and Innovation on statistics and quantitative economic analysis of research and development, innovation and growth. From 2004-05, Mr Guellec was Chief Economist of the European Patent Office (Munich). Mr Guellec has authored several books and many articles on patents, innovation, and economic growth. Before joining the OECD, Mr Guellec worked at INSEE (Paris), where he was in charge successively of short-term analysis and forecast on external trade, and of surveys and analysis of innovation and growth.

2. Prof. Dr. Stefan Schepers,
Secretary General High Level Group on EU Innovation Policy Management
Stefan Schepers has more than 30 years of professional experience in European public and corporate affairs. On the public governance side, he has acted as Director General of EIPA (the European Institute of Public Administration) and as advisor to the EU Commission and individual governments. On the corporate side, as a consultant to and mediator for leading multinational companies and trade associations, focusing on sustainable value creation and profitability.
EIPA established by the European Council in 1981 to develop policy research and advice for the EU institutions and to facilitate cooperation between national governance systems, gave him deep insights into the complex drivers of Member States' policy objectives and the functioning of the EU institutions. Whilst developing EIPA, he learned to work with them all and to understand the interaction between public policy, economic interests and societal paradigma.
He is the Secretary General of the High Level Group on Innovation Policy Management, an independent, tripartite and temporary initiative launched by the European Union in December 2011, has been tasked to elaborate recommendations on how to develop Europe's innovation policy.
Stefan Schepers, a Belgian national, holds Master degrees in Law (University of Leuven, Belgium) and in European Studies (University of Strasbourg, France), and a PH.D. in Political Science (University of Edinburgh, Great Britain). He is a member of various professional organisations and, in 2008, he was elected as a Member of the European Academy of Arts and Sciences.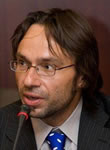 3. Prof. Dr. Stefano Fanti,
Director of Bologna University Specialty School of Nuclear Medicine
ACTUAL POSITION
At present he is full time employed in Nuclear Medicine, Associate Professor (sector MED-36, Diagnostic Imaging) at the University of Bologna, Director of Nuclear Medicine Division and of PET Unit at the Policlinico S.Orsola-Malpighi, Director of Specialty School of Nuclear Medicine at University of Bologna.
SCIENTIFIC ACTIVITY - PUBLICATIONS
Author of more than 180 full articles published in peer reviewed international journals; author of more than 400 abstracts presented at national and international meetings; author of 4 books (
more recent
) author of 18 chapters and part of books in english; reviewer for the Lancet Oncology, American Journal of Cancer, BMC Cancer, Journal of Nuclear Medicine, European Journal of Nuclear Medicine, European Journal of Hematology, Clinical Cancer Research and Other International Journals; member of the Editorial Board of European Journal of Nuclear Medicine, Spanish Journal of Nuclear Medicine.
SCIENTIFIC ACTIVITY - LECTURES
Invited lecturer at more than 120 national and international meetings (most recently at Barcelona 2/2011, Munich 1/2011, Murcia 11/2010, Vienna 10/2010, Singapore 7/2010, Davos 3/2010, Vienna 3/2010, Barcelona 10/2009, Cardiff 10/2009, Birmingham 10/2009, Munich 7/2009, Ryihad 5/2009, London 4/2009, Kuwait 3/2009, Manchester 2/2009)
SCIENTIFIC ACTIVITY - RESEARCH
Started my career in conventional nuclear medicine, with particular interest in nephrology and neurology. Subsequently my main interest became PET, participating to many research projects on clinical application of PET and PET-CT in oncology, especially in lymphoma; I also participated to many clinical trials with GCP requirement. I personally lead as main investigator several experimental projects in the field of new PET tracers, including C-Choline, F-DOPA and Ga-DOTA- NOC, as well as pre-clinical trials on new tracers and new application of PET. I act as co-ordinator or local main investigator of several national and international multicenter trials (including AIMN trial on PET-mcCT, IAEA trial on interimPET in lymphoma and others).
SCIENTIFIC ACTIVITY – FUND RAISING
As Director of PET I participated several grant applications as research leader or collaborator; the overall amount of funds raised up by PET Center in last 7 years was about 3.2 million Euro.
ADMINISTRATION ACTIVITY
I actively contributed to the planning and establishment of PET Center in Bologna, and became medical Director as of beginning. The Center now has 3 tomographs performing more than 10000 scans per year, being one of the most active in Europe. I have also been involved as supervisor and consultant in the activity of other PET centers in Italy.
TEACHING AND CONGRESS ACTIVITY
Director of Specialty School of Nuclear Medicine at University of Bologna (official EU school), and I am currently professor at several other Specialty Schools. I served as external reviewer to applicant to habilitation/professorship/other for the University of Zurich, King's College of London, University of Turku. I contributed as lecturer to several postgraduate international courses; PET Center in Bologna is an official International Center for training for GE as well as Excellence Training Center for AIMN and IAEA. I organized more than 20 national and international meetings (including National AIMN Congress 2011 with more than 1000 attendant).
INTERNATIONAL ADVISORY BODY
I served as Member of Board or reviewer in national and international tenders for PET equipment purchase; reviewed projects and grant application for several international organizations (including French Institute of Cancer, Dutch Cancer Society, Academy of Finland, Irish Health Research and others). I am National Delegate for Italy at EANM.
4. Jarko Fidrmuc, Zeppelin University
Jarko Fidrmuc works as Professor on Zeppelin Chair for International Economics Theory and Policy, Zeppelin University of Friedrichshafen, Germany since 2011. Between 2005 and 2009 he works as Professor on European Integration and Political Economy with Emphasis on Eastern Europe University of Munich, Department of Economics.
Since 2002 he is an Associate Professor on Comenius University Bratislava, Faculty of Mathematics, Physics and Informatics, Department of Applied Mathematics and Statistics, Bratislava, Slovakia. He also worked on Oesterreichische Nationalbank as Foreign Research Division, in Vienne, Austria.
He affiliated also on Institute of Economic Studies, Charles University Prague, Czech Republic, CESifo Munich, Germany and Institute for East and Southeast European Studies (IOS), Regensburg, Germany as Research Fellow.